The classroom can be a daunting place for low vision students. Consider for a moment all the materials that we tend to utilize when imparting knowledge to a classroom—slideshows, textbooks filled with small fonts and glossy photos, whiteboards, and videos. When it comes time to apply that knowledge, how do we do it? Worksheets, papers, and sometimes scientific experiments utilizing small tools and visual observations.
The classroom is dominated by visual learning. Each student presents their own unique learning styles and challenges, with visually disabled students being no exception. With the leaps in technology in both the visual and educational fields in the past few years, low vision devices for students have been designed to create an engaging classroom experience while leaping some of these visual hurdles.
This eyewear can grant your students full visual independence in the classroom. It works with a front mounted camera that feeds HD video directly to two small screens near the eyes. Using a remote, the student can zoom in to see the board or their materials clearly, take photos for future reference, and even share screens for collaboration. eSight is an exciting technological advancement for low vision student devices in the classroom.
By granting a student their visual independence, they are able to collaborate and learn using the same methods as their sighted peers. While it is a costlier device than many of the items on this list, the benefit of independence is worth the price tag.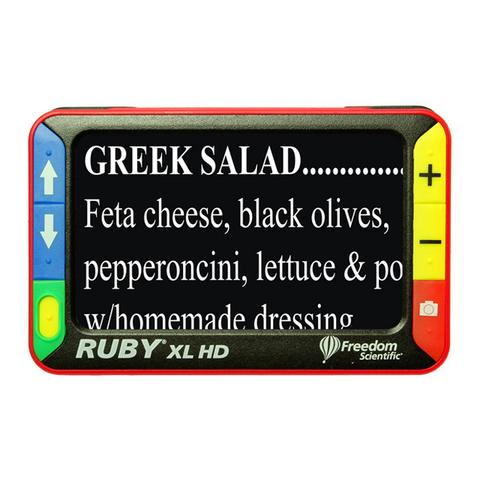 The Ruby XL HD is a low vision device that allows for students to use a small screen to view books, notes, photographs, and labels at up to 14x magnification. The Ruby XL is 5-inches wide, which gives the screen enough real estate to be useful, without the added bulk or weight of some loftier magnification devices. With 3 hours of continuous use on a single charge, this device is perfect for classroom reading or home study. It's only about 10 oz so even small hands of younger students can benefit from this device.
Low-vision and blind students in public elementary, junior, and high schools usually benefit from a specially trained staff member that can help create a tailored learning environment to fit their needs. This is often not the case in the university setting. During a student's time performing their undergraduate and graduate studies, their unique experiences with visual impairment can be challenging to tackle alone.
Learning Ally is an online service that provides human-read audiobooks, created especially for those with visual disabilities. So, not only is the text read aloud, but the images and charts are also described in detail.
Not only does Learning Ally provide these textbooks, but they also offer a College Success Mentorship program that allows blind and low-vision students to work with a mentor that shares similar challenges in their learning experience.
While Learning Ally doesn't necessarily fit the traditional description of a low vision device for students, its portability and human-focused services can be a powerful aid that helps the student both with their visual and emotional needs.
The iZoom Magnifier can turn any computer into a screen reader and magnifier in seconds. While many public computers require administrator rights to be able to install a screen reader, the iZoom Magnifier works straight from the jump drive it is installed on. This allows students to easily utilize computers in public spaces like the library or computer lab.
The ability to carry a screen magnifier in a pocket or bag can allow low vision students the freedom of not having to haul around a specialized laptop or bulky magnifier for computer work in the classroom.
iPad, Android Tablets, or Chromebooks
Especially in K-12 public schools, the use of Chromebooks, iPads, and Android tablets in the classroom have grown exponentially over the years. It seems that more and more schools are utilizing technology in their everyday classroom experiences.
This is excellent news for low-vision or blind students, and educators, alike.
While there are many devices for visually disabled students on the market, an iPad, tablet, or Chromebook can utilize apps that perform many of these functions without the need for a separate device.
For example, an iPad can utilize apps like KNFB reader, which can read written text aloud for the student, even if they are reading multiple pages from a textbook.
Lumin is another app for the iPad that works much like the Ruby magnifying device. Lumin allows users to easily magnify the world around them, including the tiny text in most textbooks. Not only can Lumin easily enlarge text, but it also features image capture and sharing capabilities, perfect for sending notes to a home computer.
If Chromebooks are a cost-effective solution, some plug-ins can help with visually disabled students as well. While not as robust as an iPad or tablet, Chromebooks feature ChromeVox, which is a built-in screen reader. The Chrome browser also features built-in zoom, high-contrast modes, and magnifiers.
As technology continues to advance, students will continue to be presented with new and innovative ways of viewing the classroom. Low vision devices for students continue to get more robust, easy-to-use, multi-functional, and portable.
While an iPad or Chromebook can offer some basic relief for these students in the classroom, it is important to remember that the apps and interfaces of these devices were not solely designed and tested to assist the visually disabled. What works for one student may not be the best solution for another.
Screen magnifiers, specialized eyewear, and social support can make a huge difference in a low vision student's classroom experience. As they progress through school, their visual needs are likely to change. The most important tool to use with students can never be replicated with cameras or apps—it's real, human communication.
Need Accessibility Help?
ISoftStone is a trusted accessibility partner. We can help you plan, develop, test and publish software that meets the strictest accessibility standards. Check out our Accessibility Best Practices Guide written for developers and designers.